Profile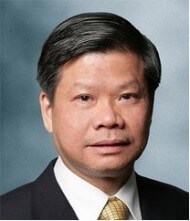 Prof Khin Yong LAM
Senior Vice President (Research), Nanyang Technological University
Professor Lam Khin Yong guides NTU's university-wide research and its implementation as Vice President (Research), a position he has held since May 2014. He was previously NTU's Acting Provost (March – December 2017), Chief of Staff (2011 – 2017), Acting CEO of NTU Innovation (2012 – 2013), Associate Provost for Graduate Education & Special Projects (2008 – 2011), and Dean/Chair of the School of Mechanical & Aerospace Engineering (2006 – 2008).

Professor Lam obtained his BSc with First Class Honours in Mechanical Engineering from Imperial College London and his Master's and PhD from the Massachusetts Institute of Technology.
Singapore
Governing Board
Research Interest
Computational mechanics, development of refined meshless (element-free) techniques. Smart materials modelling for active control. Computational nanoscience/BioMEMS/Hydrogels. Multiscale simulations. Computational methods in engineering.
Key Publications
Achievements