Centre for Lifelong Learning and Individualised Cognition (CLIC)
From neuroscience to the practice of learning
As technology and globalisation are changing the nature of labour markets and increasing the demand for high levels of skill, the need for individuals to be able to develop new skills during their working careers is becoming increasingly pressing.
Singapore's SkillsFuture programme promoted by the Ministries of Education, Manpower and Trade & Industry aptly recognises that societies need workers that have the capacity for flexible behaviour; that is, the ability to adapt to change, problem-solve in new situations based on previous experience and achieve in jobs that are likely to emerge over the next few decades. This individual capacity for cognitive flexibility is central to the modern digital age with its rapidly changing settings at home and work. As we recognise the need for flexible behaviour and transferable skills in our work force, we need our education systems to ensure that citizens are equipped with the cognitive flexibility they need to develop these skills for the future. Yet there is currently a gap in evidence-based training programmes that can effectively support and promote cognitive flexibility across the life course.
The CLIC programme aims to address this societal change by developing innovative research in the science of learning and translating it to educational and real-life applications across the life course. We will adopt an integrated interdisciplinary approach that marries cross-disciplinary expertise and methodologies to target three life periods (early years, adolescence, middle age) when flexible behaviour is critical for coping with highly changing circumstances.
The CLIC programme has three main objectives:
1. Understanding flexible learning
We aim to develop a general neurocognitive model of flexible learning that promotes cognitive flexibility. We will use established experimental protocols to measure cognitive flexibility and test the hypothesis that a generative learning style (i.e., linking old and new ideas) promotes cognitive flexibility and may also show beneficial transfer to other cognitive skills such as reading, mathematics, creativity and socio-emotional skills. We will further investigate, at the individual level, the neurobiological mechanisms that play a role in enhancing flexible behaviour.
2. Examining social factors
We aim to identify whether and how social factors (e.g. multilingualism, competition versus cooperation, tolerance of uncertainty) interact with learning to maintain and promote flexible behaviour across the lifespan.
3. Translating knowledge to application
We aim to translate knowledge derived from basic research into practical application and real-life interventions that may easily be used in schools and homes to optimise learning that promotes flexible behaviour (e.g. app-based training interventions). A combination of full-scale randomised control trials at schools (for adolescents) and smaller home-based pilot interventions (for infants and middle-aged adults) will be carried out to lay the groundwork for future large-scale translation work with these age groups.
The proposed work programme aims to establish an international Singapore-led hub of expertise in the science of learning by exploiting complementary theoretical and methodological expertise across Cambridge and NTU. The Singapore government and other stakeholders (e.g. Ministry of Education) will be involved in planning from the start to ensure the feasibility of the proposed work programme and its applicability to the Singapore context. Working together, we aspire to provide Singapore with a competitive leading edge in the Science of Learning through its transformative theory, methodological innovation, and high-impact practical outcomes.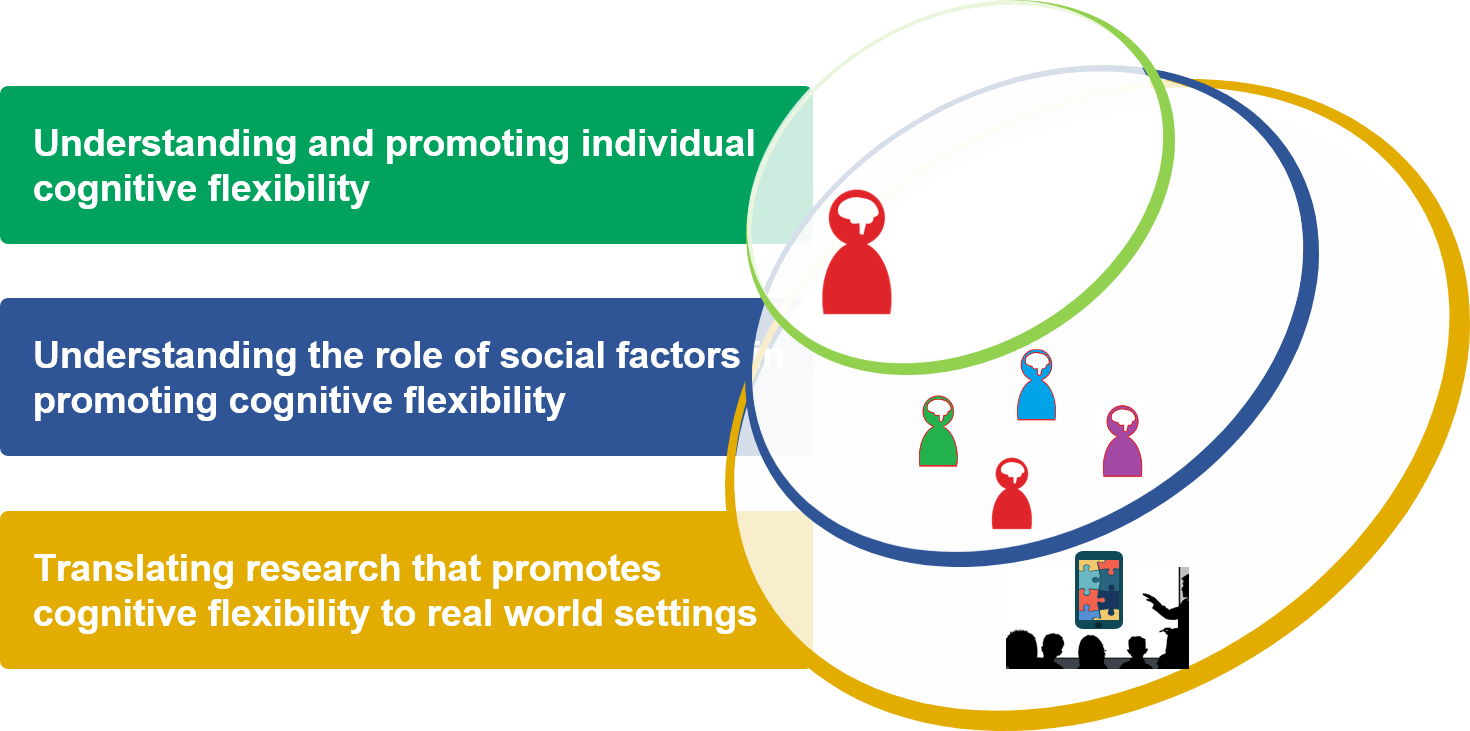 Our vision for the next generation of flexible learners in a social world
CLIC Launch Event
CLIC had its official launch event on 23rd February 2021. Videos of the launch can be seen here:
Director's introduction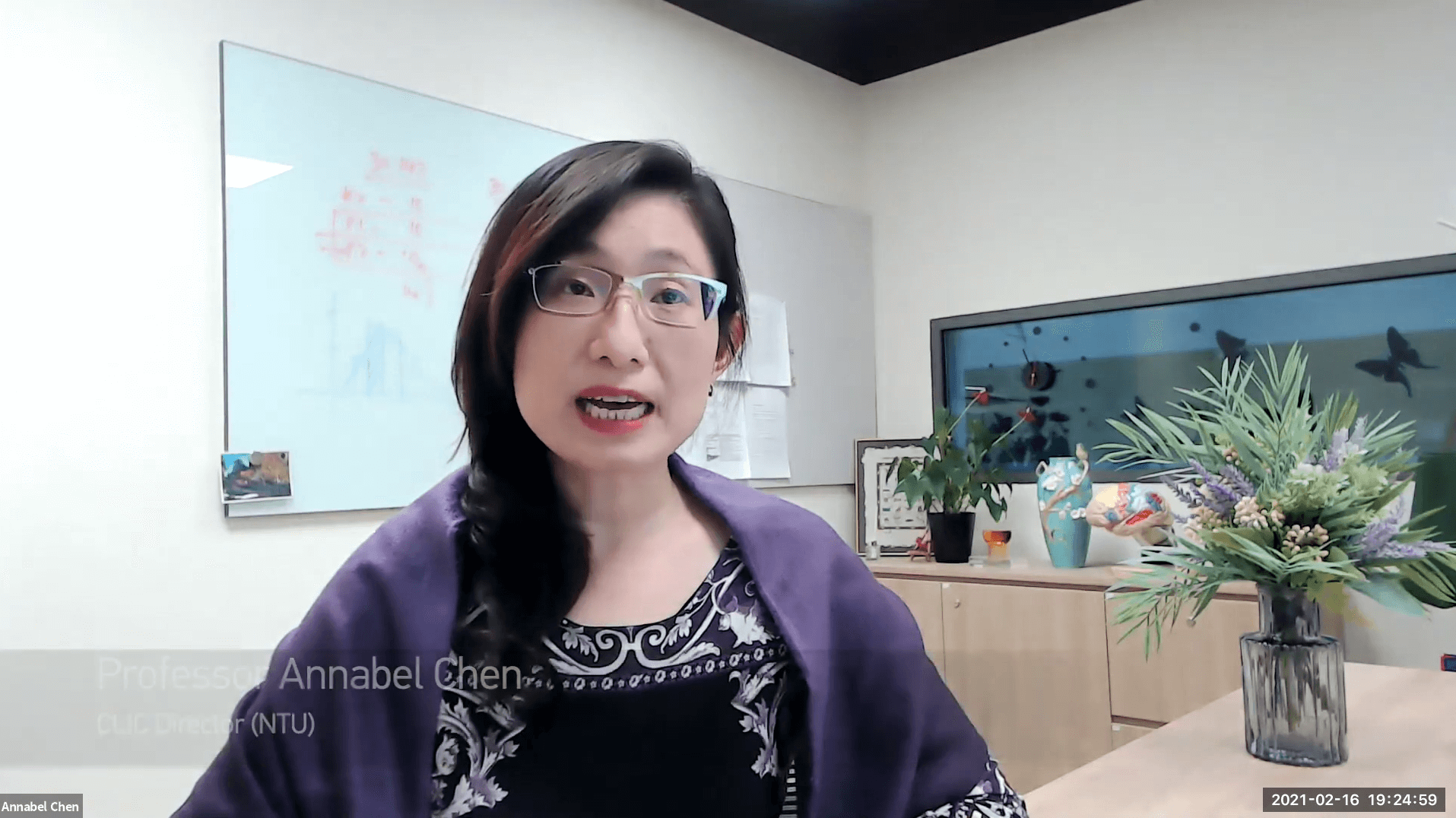 Public Lecture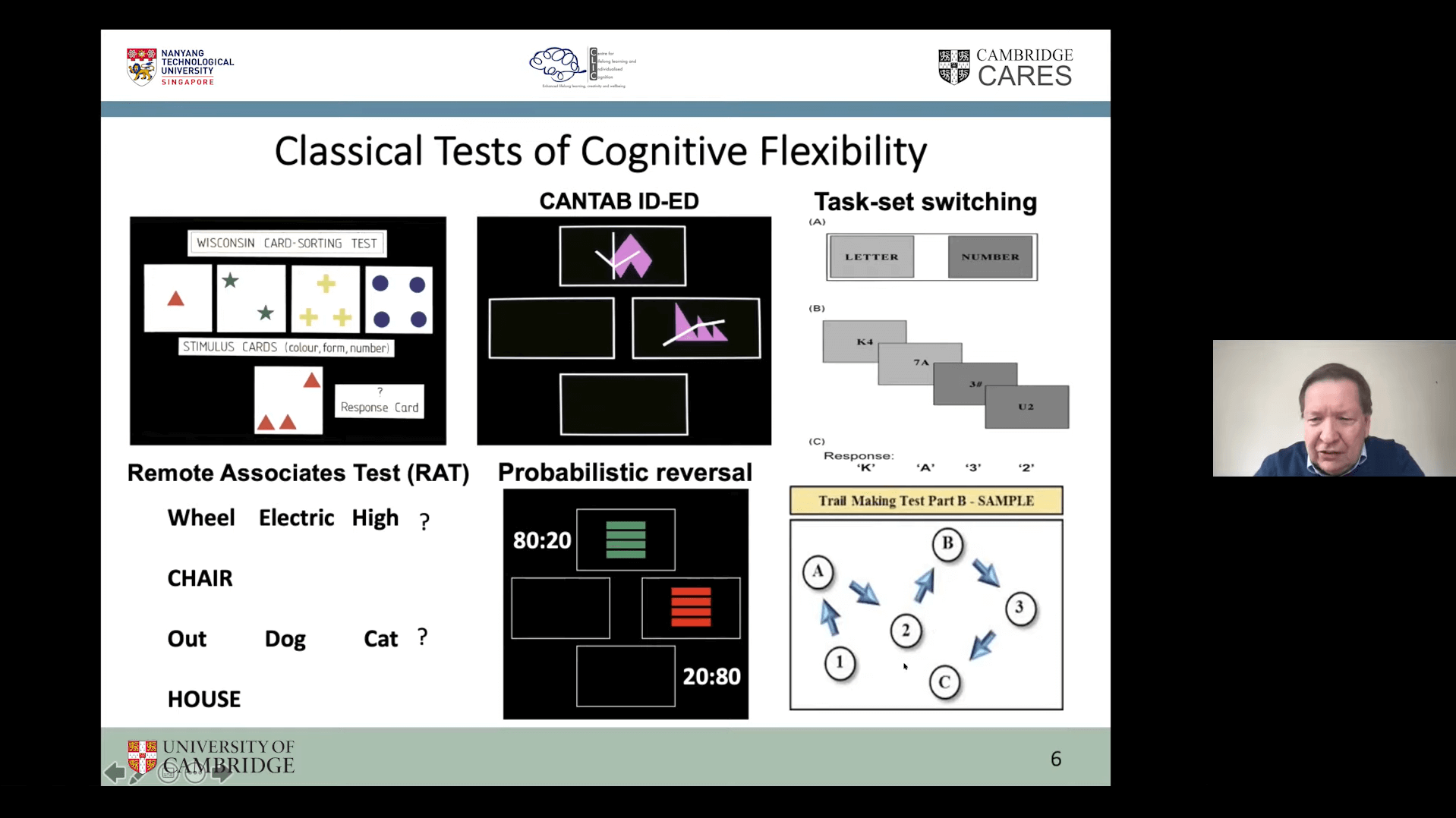 Dignitaries' speeches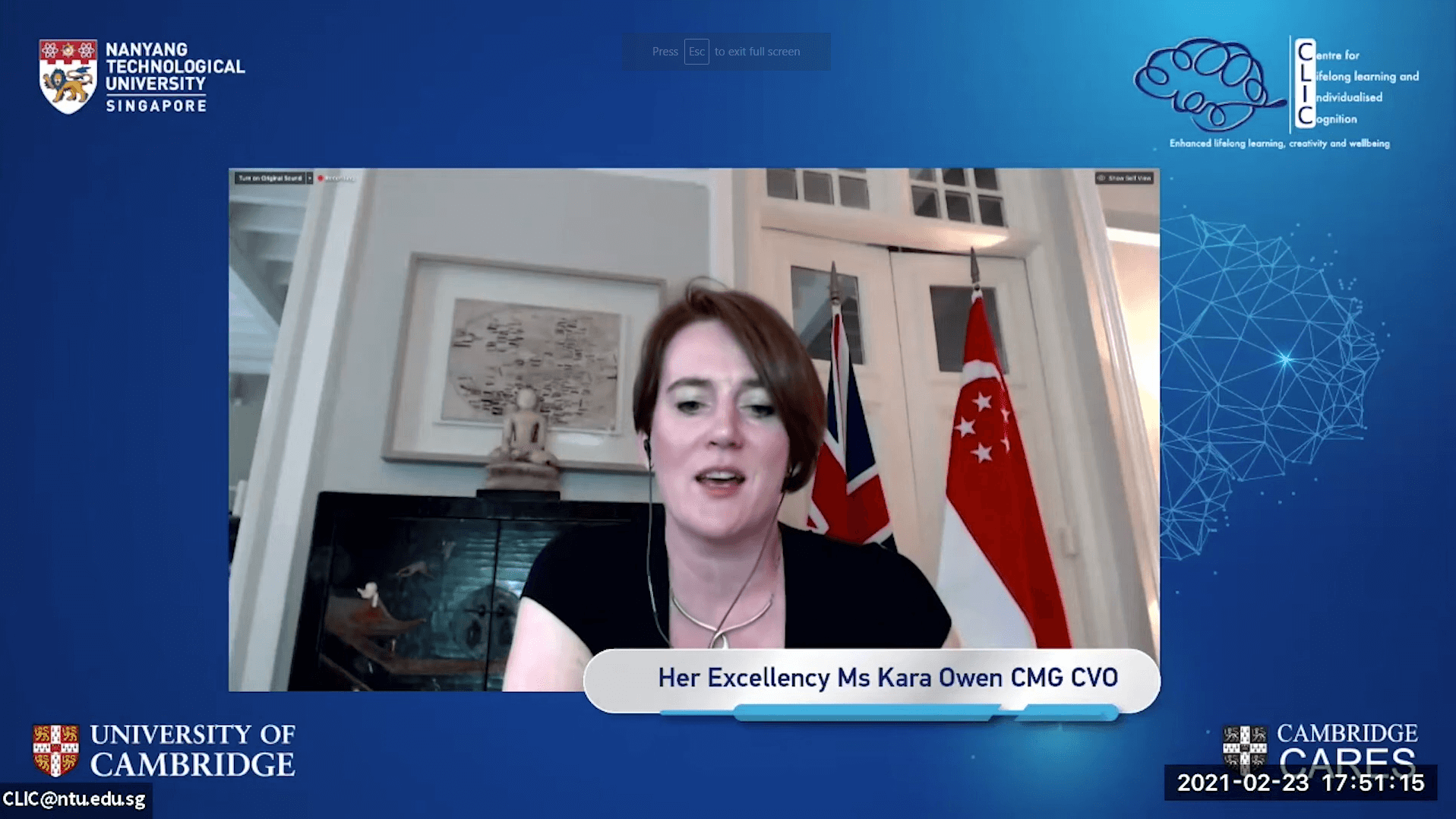 Academic talks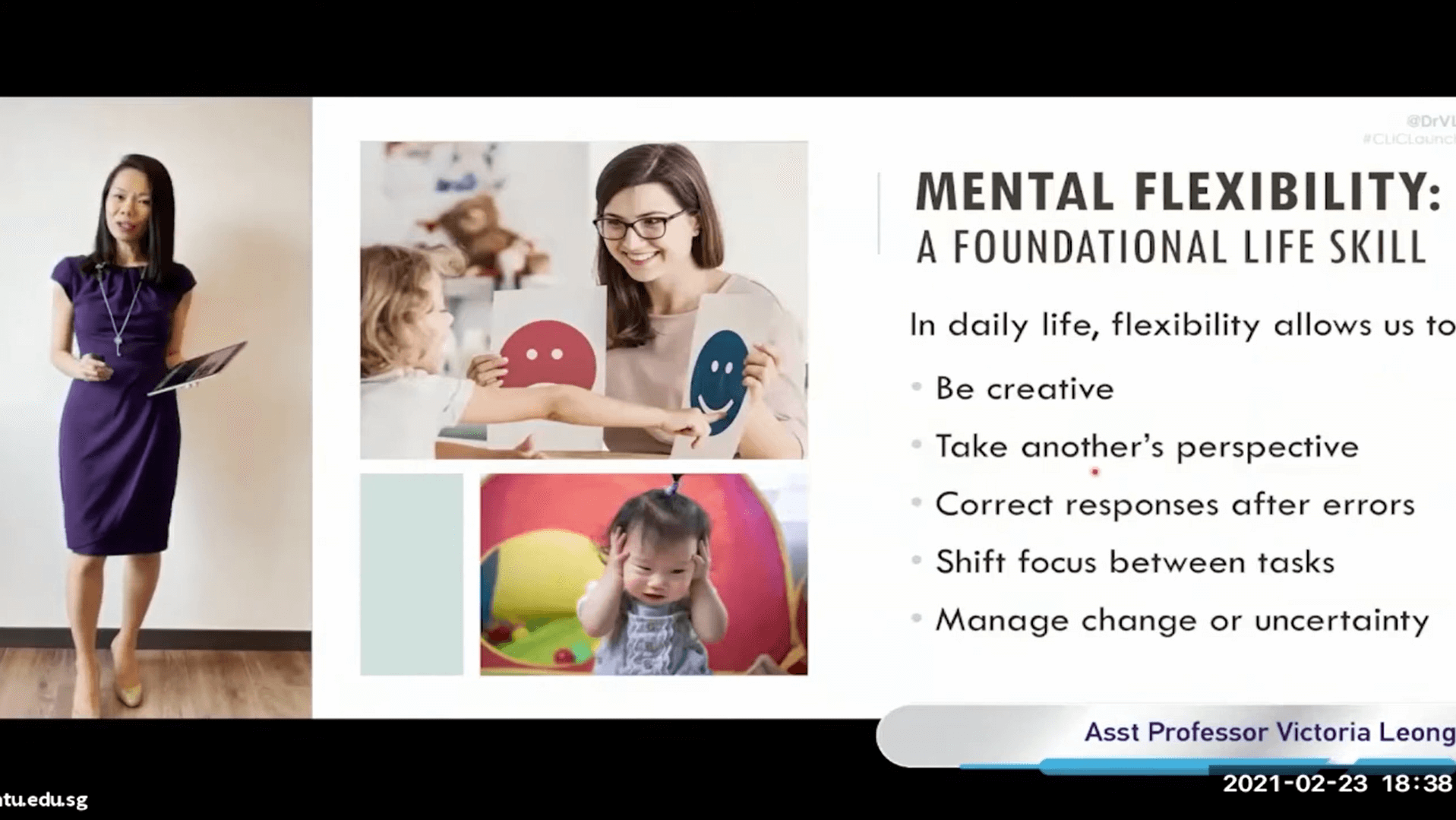 Key references
Wang, R., Shen, Y., Tino, P., Welchman, A., & Kourtzi, Z. (2017) Learning predictive statistics: strategies and brain mechanisms. Journal of Neuroscience, 0144-17. DOI: 10.1523/JNEUROSCI.0144-17.2017
Giorgio J, Karlaftis VM, Wang R, Shen Y, Tino P, Welchman AE, Kourtzi Z (2017) Functional brain networks for learning predictive statistics. Cortex, 107:204-219.
Karlaftis V, Wang R, Shen Y, Tino P, Williams G, Welchman AE, Kourtzi Z (2018b) White-matter pathways for statistical learning of temporal structures. eNeuro, 5(3), doi: 10.1523/ENEURO.0382-17.2018.
Robbins TW, Roberts AC (2007) Differential regulation of fronto-executive function by themonoamines and acetylcholine. Cerebral Cortex, 17, i151-i160.
Vaghi MM, Vértes PE, Kitzbichler MG, Apergis-Schoute AM, van der Flier FE, Fineberg NA, Sule A, Zaman R, Voon V, Kundu P, Bullmore ET, Robbins TW. (2017) Specific Frontostriatal Circuits for Impaired Cognitive Flexibility and Goal-Directed Planning in Obsessive-Compulsive Disorder: Evidence From Resting-State Functional Connectivity. Biol Psychiat, 81, 708-717.
Contact us
This research is supported by the National Research Foundation, Prime Minister's Office, Singapore under its Campus for Research Excellence and Technological Enterprise (CREATE) programme. 

Partners

Nanyang Technological University

Host Institution
Cambridge Centre for Advanced Research and Education in Singapore (CARES)
Directors
Deputy Directors
Senior Scientific Advisor
Imaging Leads
Principal Investigators
Assoc. Prof. Georgios CHRISTOPOULOS
Co-Investigators