The AMPLE Story – a webinar by Cambridge CARES
Date/Time
Date(s) - 26/08/2022
3:00 PM - 4:00 PM
Map Unavailable
Date/Time
Date(s) - 26/08/2022
3:00 pm - 4:00 pm
Categories No Categories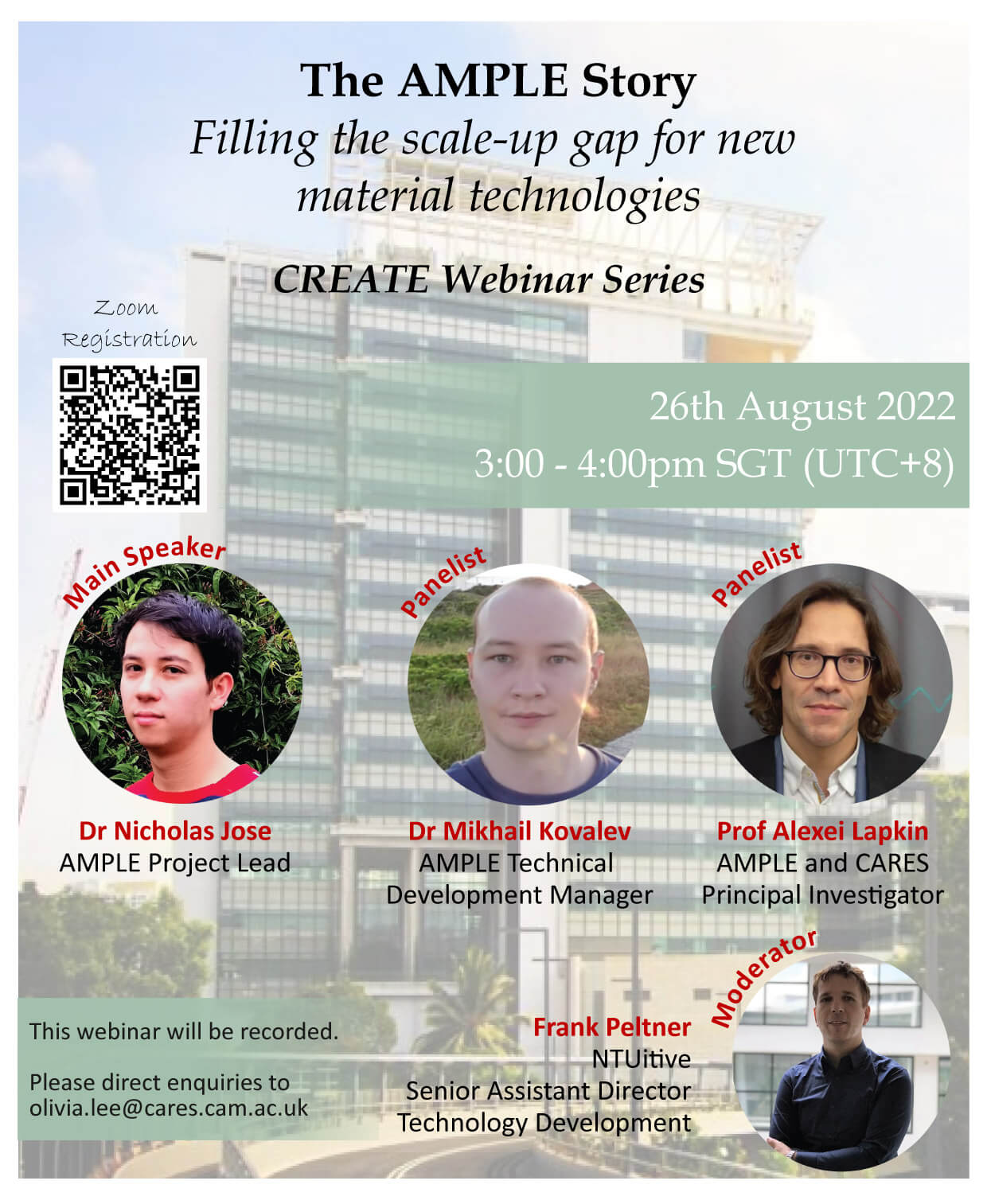 Friday 26th August
8am UK / 9am CEST / 3pm SG
Abstract: Humanity must learn to quickly develop and utilize new technologies to face accelerating global change. Much of these new technologies – from greener buildings to more efficient medicines – are based on novel nanomaterials.
Despite the vast discoveries made in Singapore and throughout the world in nanotechnology, the commercialization, and thus practical usage, of these materials is limited by their manufacturing costs. We argue that the process of "scaling-up" production is fundamentally hindered by a flawed development paradigm. A new platform for scale-up is needed to reduce the costs of development by orders of magnitude – from a decade to one year.
The AMPLE (an Accelerated Manufacturing Platform for Engineered Nanomaterials) project strives to fill this gap. This translational project started in June 2022 and focuses on shifting our recently developed reactor technology to 100 kg/day with industry partners – aiming to develop "instantaneous" scale-up. In this talk, we will provide an overview of our approach in three key areas: technology, product market fit, and supply chain. This will be followed by a panel discussion and an open Q&A.
Speaker
Dr Nicholas Jose – AMPLE Project Lead
Panelist
Dr Mikhail Kovalev – AMPLE Technical Development Manager
Prof Alexei Lapkin – AMPLE Principal Investigator and University of Cambridge Professor of Sustainable Reaction Engineering
Moderator
Frank Peltner – Senior Assistant Director of Technology Development at NTUitive
Additional Details:
This will be an online event. Please register via Zoom or use the button on the sidebar.
Read more about AMPLE in The Straits Times article.