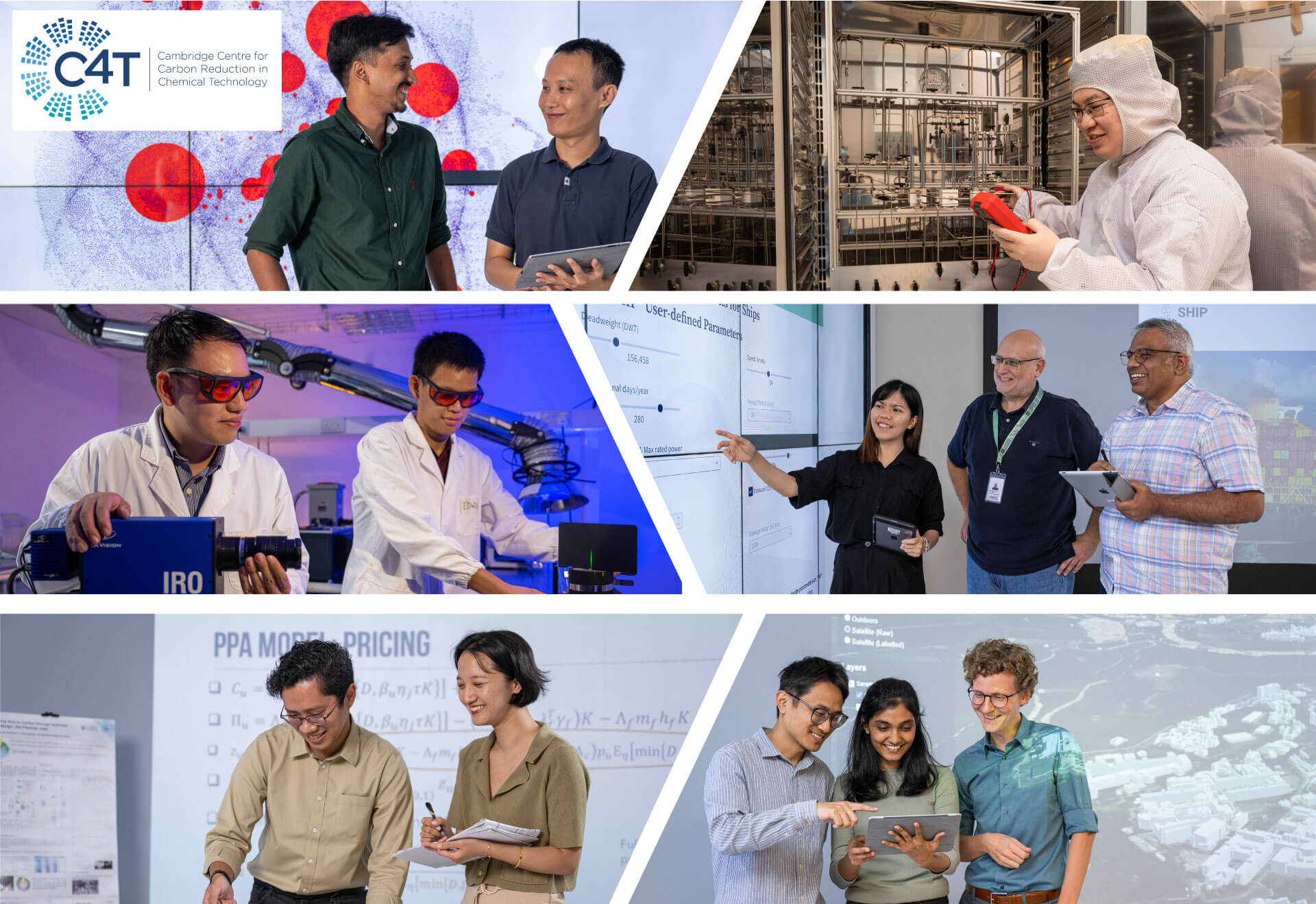 Cambridge Centre for Carbon Reduction in Chemical Technologies (C4T)
The C4T team in Singapore represents a dynamic partnership between some of the world-leading scientists and engineers at the University of Cambridge, Nanyang Technological University, and the National University of Singapore.
C4T answers the question of how to positively contribute to Singapore's ratification of the Paris Agreement on climate change while ensuring the country's progress and prowess in economic, technological, environmental and social dimensions. C4T Phase 2, which began in November 2018, systematically investigates the raw materials, processes and products of the local chemical industry and investigates technologies to lower the carbon footprint of this major pillar of Singapore's economy. The Phase 2 programme is designed to leverage skilled human resource, cutting-edge scientific research and the vibrant enterprise demonstrated in Phase 1.
Phase 2 will undertake research in six key areas known as Interdisciplinary Research Projects:
IRP 1: Sustainable reaction engineering for carbon neutral industry
IRP 2: Electrosynthetic pathways for advanced low-carbon chemical manufacturing
IRP 3: Combustion for cleaner fuels and better catalysts
IRP 4: Better, cleaner heat usage
(This CARES-built online calculator will allow users to perform their own assessment of ship performance and design when comparing various alternative fuels)
IRP BB: Better business – pathways to industrial decarbonisation
IRP JPS: The J-Park Simulator
Phase 2 sits at the heart of Singapore's global research and development hub and paves the way for a prosperous, energy-efficient, low-emission eco-city. The scientific techniques, the technologies, the toolkits and most importantly the learning gained through the programme will help assess the techno-economic role of both current (commercial) and novel (R&D stage) technology routes in decarbonising the chemicals and energy sector, whilst simultaneously enriching the talent pool in Singapore by training the next generation of scientists and engineers, supplemented with international expertise and an innovation-driven entrepreneurial ecosystem.
This research is supported by the National Research Foundation, Prime Minister's Office, Singapore under its Campus for Research Excellence and Technological Enterprise (CREATE) programme.