How combustion science decarbonises our energy system
Date/Time
Date(s) - September 29, 2023
4:00 PM - 5:00 PM
Map Unavailable
Date/Time
Date(s) - September 29, 2023
4:00 pm - 5:00 pm
Categories No Categories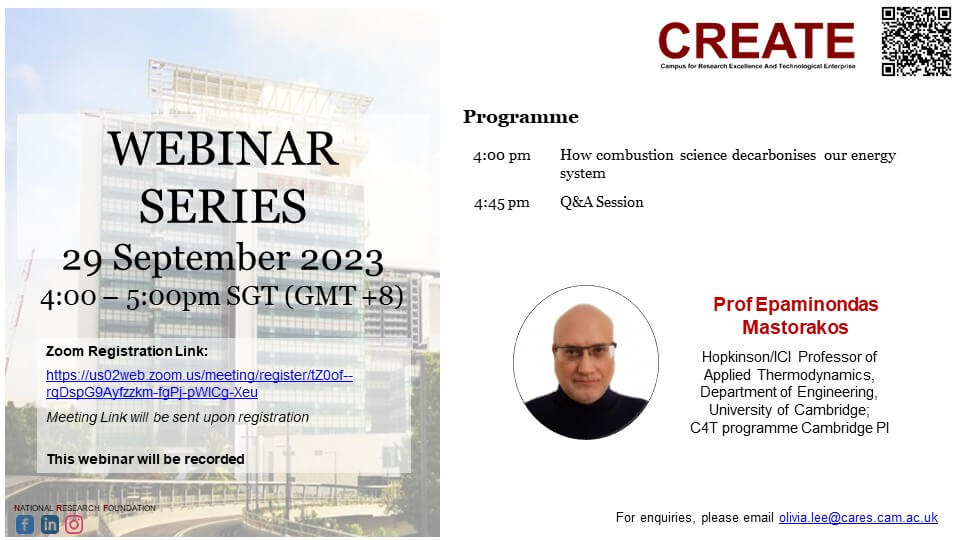 Friday 29th September
9am UK / 4pm SG
Abstract: Since batteries do not seem capable of reaching the charging times and energy densities required in some applications, a zero-carbon energy system will contain significant contributions from gaseous or liquid renewable fuels whose energy is extracted by combustion. Some recent developments on the turbulent combustion of ammonia and hydrogen will be presented to highlight their complex chemistry and interactions with the fluid motions that must be harnessed in order to produce the next-generation propulsion devices and heating systems. Examples from power generation, aviation, and maritime propulsion will be given with a focus on parasitic emissions and flame structures. The talk will also include comments on how the models needed for novel engine development can be used to great advantage for wildfires amplified by climate change.
About the speaker:
Prof Epaminondas Mastorakos FREng – Hopkinson/ICI Professor of Applied Thermodynamics at the Department of Engineering, University of Cambridge; C4T programme Cambrige PI
Prof Mastorakos is currently the Combustion Research Coordinator within the Rolls-Royce / Cambridge University Gas Turbine Partnership. His expertise spans various areas including fuels, energy, combustion, atmospheric chemistry, aerosols, fluid mechanics of shale oil and gas, forest fires, and energy systems for aviation and shipping. Prof Mastorakos has received several prestigious awards for his research papers, including accolades from the Combustion Institute and the American Society of Mechanical Engineers. He has been elected Fellow of the Combustion Institute (2018), Fellow of the UK Institute of Mechanical Engineers (2019), and Fellow of the Royal Academy of Engineering (2022).
Additional Details: This will be an online event. Please register via Zoom or use the button on the sidebar.