Cambridge CARES regularly hosts interns, often students from our partner universities who join us during their holidays. We recently said goodbye to two fantastic interns who have returned to their undergraduate degrees at NTU and NUS, but who kindly agreed to write about their experiences.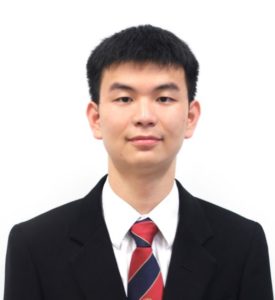 My experience doing a summer internship with Cambridge CARES has been exciting. It was the summer vacation before my fourth year at NTU (studying undergraduate Chemical Engineering). My internship was 10 weeks long and I worked on the J-Park Simulator project, which aims to create an island-wide model of all the industrial plants on Singapore's Jurong Island.
Throughout this internship, I learned about creating process simulations and ontologies. Neither of these were familiar to me at first, but picking them up turned out to be interesting. What I liked about the internship is that I was expected to come up with my own ideas to solve a problem instead of getting told what to do in a top-down manner. I think that allowed me to make a meaningful contribution and I'm very happy to have had that experience.
Steven Pratama, Chemical Engineering student at NTU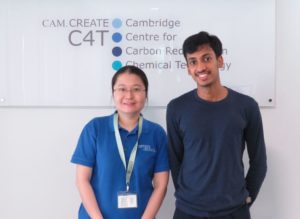 As a second year Chemical Engineering student looking to apply the foundational knowledge I had gathered since matriculating, the J-Park simulator internship at CARES seemed extremely interesting. The idea of a cyber-physical system that could analyse and represent the real-time multidimensional impact of 'what-if' scenarios related to Jurong Island with respect to CO2 emissions, energy consumption and resource consumption struck a chord with me. I recognised the potential of such a tool in the design, analysis and autonomous optimization of an eco-industrial park. Furthermore, the project leveraged concepts such as the Internet of Things, Semantic Web, Industry 4.0 and Artificial Intelligence, cutting-edge concepts that are central to Singapore's drive to become a Smart Nation.
My internship lasted three months, from May to August 2018, and I was given two primary tasks. The first involved using a chemical process simulation software, Aspen HYSYS, to simulate two industrial processes on Jurong Island. This proved to be a challenge, due to the lack of precise data and my unfamiliarity with process simulation. However, over the course of the internship, by leveraging the extensive experience of my supervisor, Mei Qi, who was very supportive and always willing to help, I was able to develop enough proficiency to complete the task. I had to apply the fundamental courses I had been taught in my undergraduate program over the past two years, and in the end, it was gratifying and fulfilling to have a basic working model of an industrial process that I had no prior knowledge of.
The second task given to me was to use the simulation data to create semantic, universally machine-readable data models of the industrial processes. The J-Park Simulator would have to deal with extensive amounts of raw data, so there was a need to represent this data in a consistent and commonly understood hierarchical ontological framework. The manual method of doing this would take days to weeks, so along with a fellow intern, Steven, I helped to design and implement a piece of Java code that would automate this process in a couple of minutes. This was a huge achievement for me, as I had no prior knowledge of programming or the concept of ontologies, but the J-Park team and Kevin, my co-supervisor, were very helpful in providing me with the materials to get up to speed. In the end, through collaboration with Steven, I surprised myself with the speed at which I could pick up a new skill, and utilise my chemical engineering knowledge in such a cutting-edge and interdisciplinary area.
Working at CARES developed my interest in process simulation and modelling, and I plan to develop this competency further in a research project I will be pursuing as part of my degree program. Being in an environment populated by PhD students, who were friendly and welcoming, also gave me exposure to what a possible future in research may be like, as well as interesting and emerging projects in the field. It definitely helps in internships such as these to have an open mind, a curious disposition, and an insatiable desire to learn. I am grateful to CARES for giving me such a valuable opportunity, and look forward to coming back at some point in the future.
Adarsh Arun, Chemical Engineering student at NUS
C4T occasionally hosts internships (usually for undergraduate or graduate students studying a Chemical Engineering or Engineering programme). If you are interested in applying for an internship with us, in the first instance please send your CV and a brief description of why you are interested in an internship with C4T to olivia.lee@cares.cam.ac.uk