A new collaboration between Cambridge CARES and the Singapore-ETH Centre will lay the groundwork for Singapore consumers to more easily manage their energy costs. It will also outline ways for local government to make informed decisions based on real-time energy use for smarter city planning.
Following the introduction of an open electricity market by Singapore's Energy Market Authority in 2018, consumers can now choose their electricity provider. Although information about the various providers and plans is readily available to consumers, there is currently no platform that formalises all of the available energy usage data.
This new project, Consumer Energy Usage Data in Smart City Development (CEUS), will identify the different terminologies and data types used by the various energy providers in Singapore and transform them into a common language and information model, allowing consumers to easily identify trends and make better choices. It will also take steps towards integrating real-time usage data into existing city modelling in Singapore.
CEUS will also link up with the existing data platform already developed by CARES, the J-Park Simulator, to enable seamless and effective exchange of consumer energy usage data with third party services. Singapore's energy policies and governance systems will be taken into account to ensure that the project's outputs can be easily adopted for widespread use.
As well as the benefits to consumers, CEUS will allow Singapore to further develop resilient, intelligent and lower-carbon city models that can improve the health and wellbeing of its citizens.
CEUS launched on the 1st of October and is led by Principal Investigators Dr Franziska Sielker (University of Cambridge) and Dr VSK Murthy Balijepalli (Singapore-ETH Centre) with support from other researchers at Cambridge CARES, the Singapore-ETH Centre, NTU and ETH Zürich.
Dr Sielker will oversee the project, drawing on her experience in city planning and policy analysis to ensure that the project's output is designed for widespread participation.
She added, "Spatial planning practices across the world are yet to deliver on the promises of new technologies. This project will help to empower local governments to make use of real-time information for better informed decision-making resulting in more effective energy infrastructure. This real-time information will also mean engaging local communities in the combat against climate change and fostering a more sustainable energy use in a smarter Singapore."
Dr VSK will be responsible for the development of the common information model and the use cases.
He added, "From the consumer perspective, there are no standardised mechanisms or an interoperable framework to create value-addition with the energy usage data, and the only benefit we hear today is reduced electricity bills. This project has a high-level real-world framework where the proposed semantics and ontologies consider a holistic view of grid resilience, energy utilities, and solution providers by centring around the energy consumers."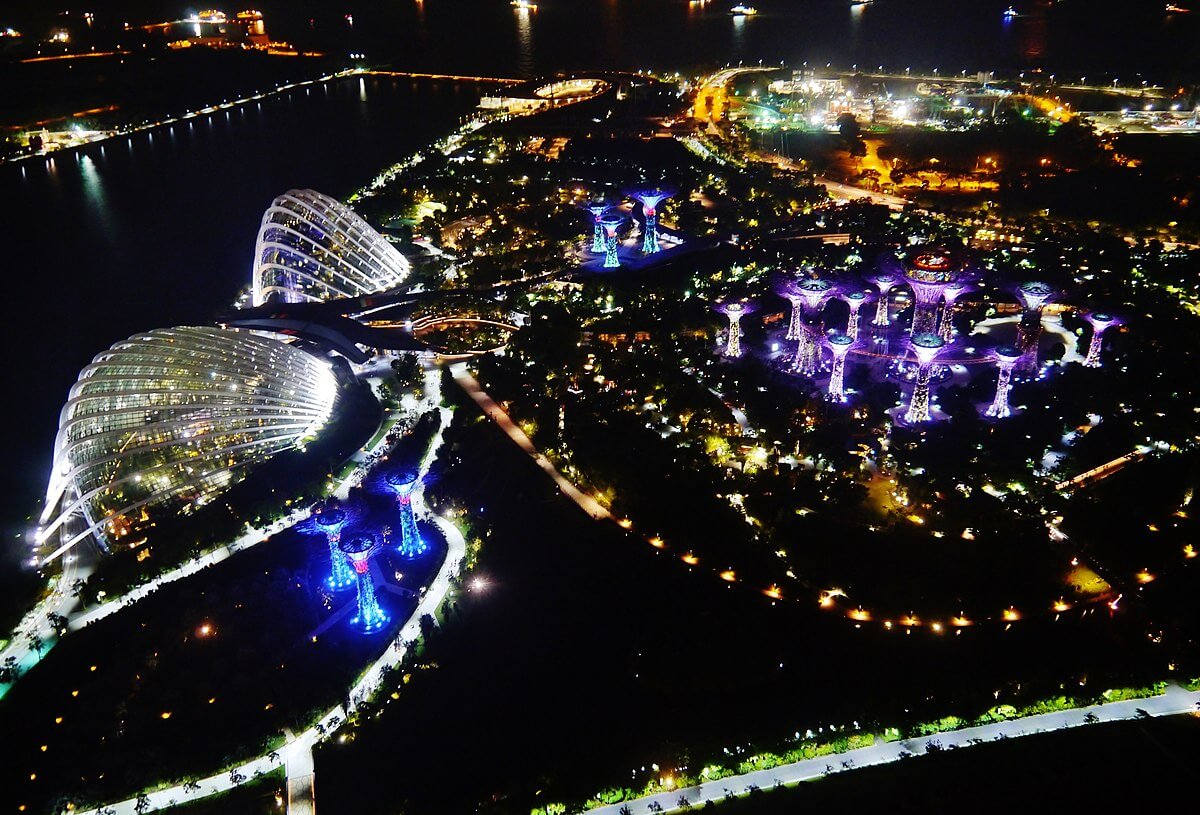 View from Marina Bay Sands to Gardens by the Bay, Singapore, by Zairon. Licensed under CC BY-SA 4.0. 
Find out more about the CEUS project here: https://www.cares.cam.ac.uk/research/ceus/
About SEC
The Singapore-​ETH Centre (SEC) was established in 2010 by ETH Zürich – The Swiss Federal Institute of Technology and Singapore's National Research Foundation (NRF). As ETH Zürich's only research centre outside of Switzerland, the centre has strengthened the research capacity of ETH Zürich to develop sustainable solutions to global challenges in Switzerland, Singapore and the surrounding regions.
About CREATE
This research is supported by the National Research Foundation, Prime Minister's Office, Singapore, under its Campus for Research Excellence and Technological Enterprise (CREATE) programme. CREATE is an international collaboratory housing research centres set up by top universities. At CREATE, researchers from diverse disciplines and backgrounds work closely together to perform cutting-edge research in strategic areas of interest, for translation into practical applications leading to positive economic and societal outcomes for Singapore. The interdisciplinary research centres at CREATE focus on four areas of interdisciplinary thematic areas of research, namely human systems, energy systems, environmental systems and urban systems.