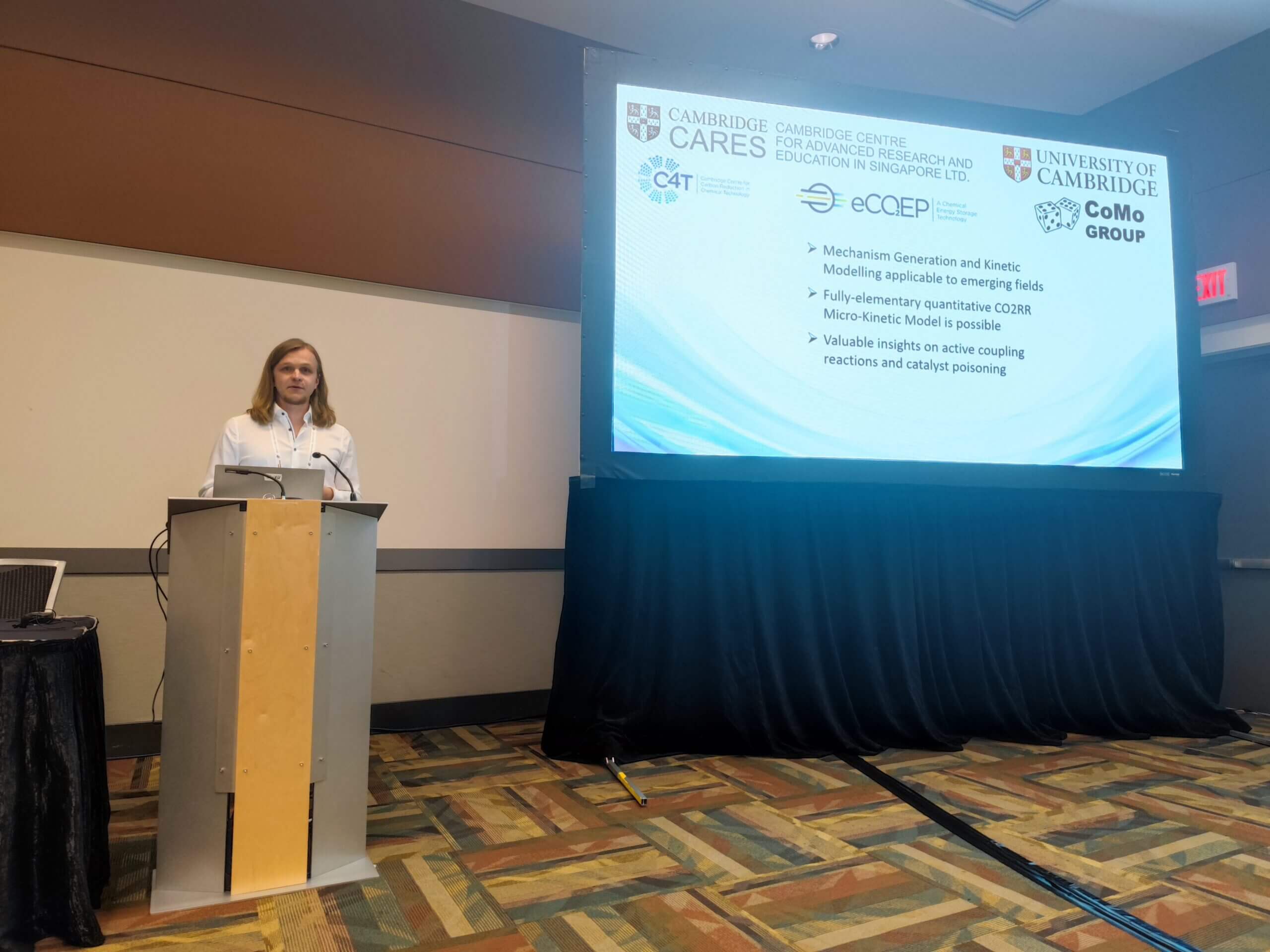 Simon presents his paper at the 39th International Symposium on Combustion
CARES PhD Student Simon Rihm has won a prestigious Distinguished Paper prize from the Combustion Institute for his paper "Modelling a detailed kinetic mechanism for electrocatalytic reduction of CO2".  
The prize, which is awarded biennially, recognised the most outstanding paper presented at the 2022 International Symposium on Combustion and published in the Proceedings of The Combustion Institute in the category of Multi-Physics Phenomena. 
Simon's winning paper, co-authored with CARES Senior Research Fellow Dr Jethro Akroyd and CARES Director Prof Markus Kraft, finds evidence for voltage-dependent dimerisation reactions of *CHO and *CH2 intermediates respectively as well as potential mechanisms of deactivation. This provides entirely new insights into the reaction mechanism, which could help researchers develop more effective strategies for mitigating climate change by reducing greenhouse gas emissions. 
"Big thanks to the Combustion Institute for this honour – especially as the topic might be considered outside their traditional scope. I think the combustion community is ready to apply its vast expertise in detailed kinetics (and other areas) to a wider range of problems and contribute to global decarbonisation in a substantial way," said Simon.  
In addition to this latest achievement, Simon's work can be seen on the front cover of the current Biannual Report. Congratulations to Simon Rihm and his collaborators on this well-deserved recognition! 
Simon's research is supported by the National Research Foundation, Prime Minister's Office, Singapore under its Campus for Research Excellence and Technological Enterprise (CREATE) programme.