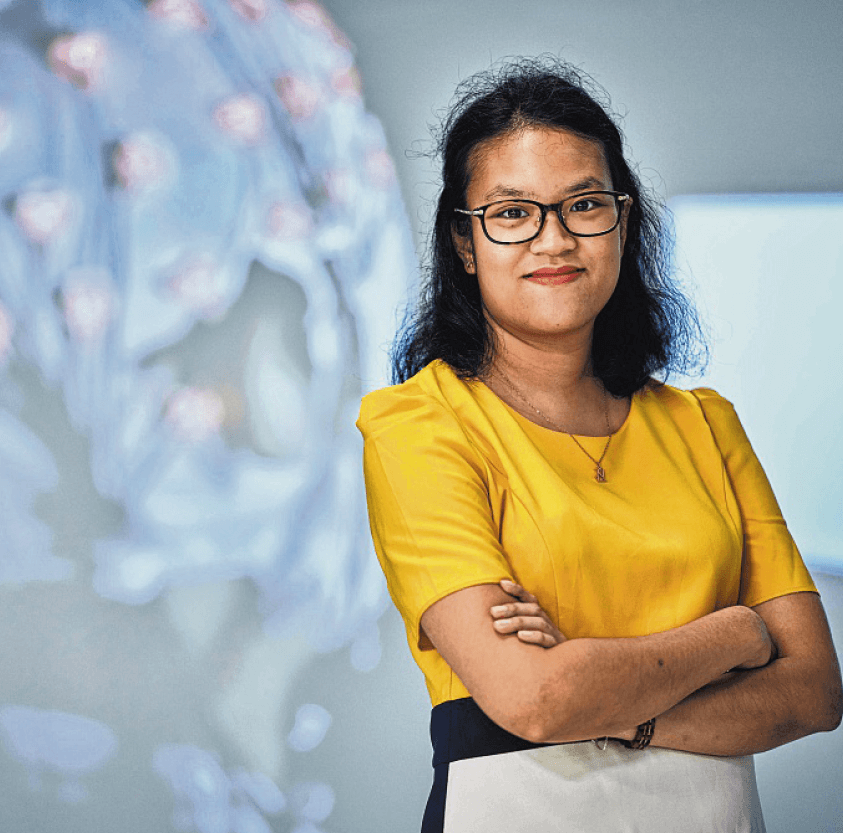 Pictured is Dr Nadhilla Velda Melia, Research Fellow on the CLIC programme. Photo credits: National Research Foundation (NRF).
Dr Nadhilla Velda Melia, Research Fellow on the CLIC programme, was interviewed by Berita Harian, Singapore's national Malay news outlet, as part of a Human Interest feature on her life as a researcher and her interactions with the community through her work at CLIC.
The original story from Berita Harian: (https://www.beritaharian.sg/setempat/manfaat-kerjasama-antara-penyelidik-demi-masyarakat)
The English version of the article is available below, translation provided by NRF:
_ _ _
After receiving a Doctor of Philosophy (PhD) degree in psychology at the Singapore Management University (SMU), Dr Nadhilla Velda Melia was motivated to delve into the field of relationships between socio-cognitive variables.
When given the opportunity to work at the Center for Lifelong Learning and Individual Cognition (CLIC) program, Dr Melia did not miss the opportunity.
Now, aged 30, she is one of the researchers under the CLIC program that conducts basic research in learning science (neuroscience).
It brings hope to increase adaptive and flexible learning involving cognitive flexibility.
Engaged in this field around six years ago, Dr Melia said she actually did not think she would venture into the field.
"As a teenager, I used to only think about continuing my studies to the next level.
"After primary school, go to secondary school, then take the General Certificate of Education (GCE) Level 'A' exam.
"When it came time to choose a field at university, I was moved to study psychology and until now, I have never regretted that decision," said the eldest daughter.
Sharing her interest in psychology, the graduate in psychology from SMU said the CLIC program gave her the opportunity to further develop her knowledge and collaborate with different individuals in the research industry.
CLIC is a program of the Cambridge Center for Research and Advanced Education in Singapore (Cares) and is run by Cambridge University and Nanyang Technological University (NTU).
It is one of the programs supported by the National Research Foundation (NRF) under the Excellence in Research and Technology Enterprise (Create) initiative which is part of Singapore's national strategy to increase the vibrancy and diversity of the research, innovation and enterprise ecosystem here.
Commenting on the programme, Dr Melia said:
"This program gave me the opportunity to continue to think outside the norm. What I love about this program is the collaborative opportunities I get to explore.
"It is not limited to researchers in the psychology industry but also others such as linguists and so on.
"With this collaboration, our research has become better," she explained.
At CLIC, Dr Melia is currently researching the relationship between socio-cognitive variables that include multilingualism, tolerance of uncertainty and perceived social support, as well as cognitive flexibility.
As a young researcher, Dr Melia said he hopes to continue to inspire other young people to venture into the field of research.
Among her efforts is teaching at the university level at SMU.
"Interacting with the next generation is important so that they continue to be curious.
"Curiosity can not only produce research but can also have an impact on society.
"Maybe they don't see it now but research work is important.
"To continue this, we need fresh input and contributions from young minds," she added.