Profile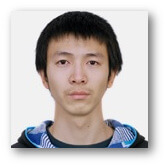 Runze QIN
PhD Student
Runze completed his PhD at National University of Singapore and has since taken up an appointment in Shenzhen, China.
Alumni
Alumni
Research Interest
Key Publications
Li, Bowen & Wang, Tian & Le, Qiujian & Qin, Runze & Zhang, Yuxin & Zeng, Hua. (2022). Surface reconstruction, modification and functionalization of natural diatomites for miniaturization of shaped heterogeneous catalysts. Nano Materials Science. 10.1016/j.nanoms.2022.05.001.

Qin, Runze, and Hua Chun Zeng. 2019. "Confined Transformation of UiO‐66 Nanocrystals to Yttria‐Stabilized Zirconia with Hierarchical Pore Structures for Catalytic Applications." Advanced Functional Materials 29 (39): 1903264. https://doi.org/10.1002/adfm.201903264.

Qin, Runze & Zeng, Hua. (2018). Design and Synthesis of Supported Nanoscale MOFs: Transformation from Transition Metal Silicates. ACS Sustainable Chemistry & Engineering. 6. 10.1021/acssuschemeng.8b03468.


Achievements