Profile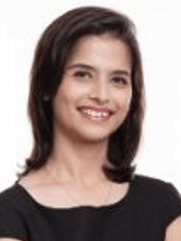 Dr Abhiruchi GADGIL
Research Fellow
Dr. Abhiruchi Gadgil earned her PhD in Sustainable Earth from Nanyang Technological University in 2018 working on the thesis titled 'Lubrication Mechanisms in Offshore Wind Turbines'. She was associated with Energy Research Institute@NTU and TOTALEnergies for her PhD work. Her PhD experience encompassed experimental work using tribological rigs, characterisation instrumentation and different aspects of experimental metrology in NTU laboratories and TOTALEnergies laboratories in Solaize.

Abhiruchi has a Bachelor's degree in Chemical Engineering from Laxminarayan Institute of Technology, Nagpur, India and Masters in Chemical and Biomolecular Engineering from University of Pennsylvania.

Before her PhD, Abhiruchi worked in Norway with Hydro A.S. at their research centre for three years, working on varied projects from novel energy saving designs of the electrolytic cells to environmental projects for assessing feasibility of retrofitting plants with CO2 capture systems. During her work in Norway, she obtained certification for Project Management, and has worked with varied international teams and suppliers.

At CARES, Abhiruchi has worked on projects under Cambridge Centre for Carbon Reduction and Chemical Technologies (C4T) and Emerging Opportunities Fund (EOF). She has been a part of IRP-BB (Better Business). One of the research areas she has worked on, involves C-suite psychology studies to understand the adoption behaviours of senior managers as well as organizations towards clean technology. Based on her study, she has generated a framework which includes managers' psychology and adoption parameters. Under EOF, she has generated insights on the differences and similarities in strategies of decarbonization for the hard-to-abate sector. The insights include but are not limited to technology used, geopolitical aspects and financial mechanisms. In her time so far at CARES and NTU, she has been a part of several panels and attended conferences in the domain of industrial decarbonization and renewables.

She is passionate about this field and hopes to keep on generating actionable insights and research work in the field of decarbonization.
Alumni
Alumni
Research Interest
- Corporate Sustainability
- C-suite psychology
- Decarbonization strategies in manufacturing sector
- Hard-to-abate sector decarbonization
Key Publications
Achievements