Profile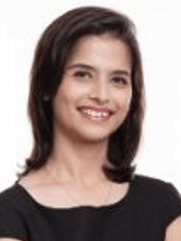 Dr Abhiruchi GADGIL
Research Fellow
Dr Abhiruchi Gadgil earned her PhD in Sustainable Earth from Nanyang Technological University in 2018 working on the thesis titled 'Lubrication Mechanisms in Offshore Wind Turbines'. She has experience working with tribological rigs, characterisation instrumentation and different aspects of experimental metrology. Abhiruchi has worked closely with TOTAL research lab in Solaize for a part of the thesis work.

Before her PhD, Abhiruchi worked in Norway with Hydro A.S. at their research centre for three years, working on varied projects from novel energy saving designs of the electrolytic cells to environmental projects for assessing feasibility of retrofitting plants with CO2 capture systems. During her work in Norway, she obtained certification for Project Management, and worked with varied international teams and suppliers.

At CARES, she is generating data on clean energy adoption by using tools such as surveys, sustainability reports, etc. This data will be analysed to generate insights into drivers and barriers for CO2 capture technology adoption and clean energy adoption in industrial and non-industrial sectors, specifically in the Singapore context.

Abhiruchi has a Bachelor's degree in Chemical Engineering from Laxminarayan Institute of Technology, Nagpur, India and Masters in Chemical and Biomolecular Engineering from University of Pennsylvania. Abhiruchi enjoys traveling and reading infinite stories to her kids.
Singapore - CARES
Researchers
C4T IRP BB
Research Interest
Key Publications
Achievements