Profile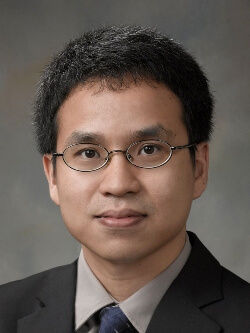 Prof Kunn HADINOTO
Co-Principal Investigator
Asst Prof Kunn Hadinoto joined NTU's School of Chemical and Biomedical Engineering in 2007. He received his Bachelor degree in Chemical Engineering from the University of Washington (Seattle, USA) in 2000 and his doctoral degree also in Chemical Engineering in 2004 from Purdue University (West Lafayette, USA). His research interests are in the area of particle technology with an emphasis on its applications in sustainable pharmaceutical manufacturing, inhaled delivery of nanomedicines, and nutraceutical food product processing.
Singapore - NTU
Researchers
C4T IRP JPS
Research Interest
Development of sustainable preparation methods of solid dosage form of nanopharmaceuticals.
Inhaled delivery of nano-antibiotics for chronic lung infection therapy against Pseudomonas aeruginosa biofilm. Development of nutraceutical food products (e.g. probiotics, medicinal herbs).
Lipid-polymer hybrid nanoparticles as a new generation drug delivery platform.
Flow behaviors of powders in pharmaceutically relevant processes (e.g. crystalliser, granulator, dryer).
Key Publications
Google Scholar Link

W.S. Cheow, K. Hadinoto. (2013). Biofilm-Like Lactobacillus rhamnosus Probiotics Encapsulated in Alginate and Carrageenan Microcapsules Exhibiting Enhanced Thermotolerance and Freeze Drying Resistance. Biomacromolecules, 14(9), 3214-3222.

Cheow WS, Hadinoto K. (2012). Green Amorphous Nanoplex as a New Supersaturating Drug Delivery System. Langmuir, 28(15), 6265-6275.

Wang Y, Kho K, Cheow WS, Hadinoto K. (2012). A comparison between spray drying and spray freeze drying for dry powder inhaler formulation of drug-loaded lipid-polymer hybrid nanoparticles. International Journal of Pharmaceutics, 424(1-2), 98-106.

W.S. Cheow, K. Hadinoto. (2011). Factors affecting drug encapsulation and stability of lipid-polymer hybrid nanoparticles. Colloids and Surfaces B: Biointerfaces, 85, 214-220.

W.S. Cheow, M.W. Chang, K. Hadinoto. (2010). Antibacterial efficacy of inhalable levofloxacin-loaded polymeric nanoparticles against E. coli biofilm cells: The effect of antibiotic release profile. Pharmaceutical research, 27(8), 1597-1609.

Achievements