The J-Park Simulator
The J-Park Simulator (JPS) brings together for the first time cross-domain modelling and data storage with an ontology-based expert system to produce a next-generation tool for the design, analysis and operation optimisation of eco-industrial parks. JPS allows public sector agencies, industry and infrastructure providers to assess the full, multi-dimensional impact of different 'what if' scenarios in real time. From the chemical processes to the electricity grid and from building management to molecular reactions, JPS provides clear, visual information to support optimisation, decision making and scenario analysis.
The J-Park Simulator uses Singapore's Jurong Island as a case study and test site to perfect its development. Jurong Island is home to dozens of refineries and other chemical plants, making it the perfect location for our researchers to test the likely real-world effects of the technologies being produced in the programme.
Explore the J-Park Simulator from the main site here: http://www.jparksimulator.com/
Podcast: How artificial intelligence can help humans fight climate change
This podcast gives a good overview of the work being done in the J-Park Simulator project. In this episode of Channel News Asia podcast "The Climate Conversations", Professor Kraft explains how artificial intelligence can help to reduce harmful emissions and mitigate the impacts of climate change.
Listen to the full podcast here: https://www.channelnewsasia.com/listen/climate-conversations/artificial-intelligence-can-help-humans-fight-climate-change-2260841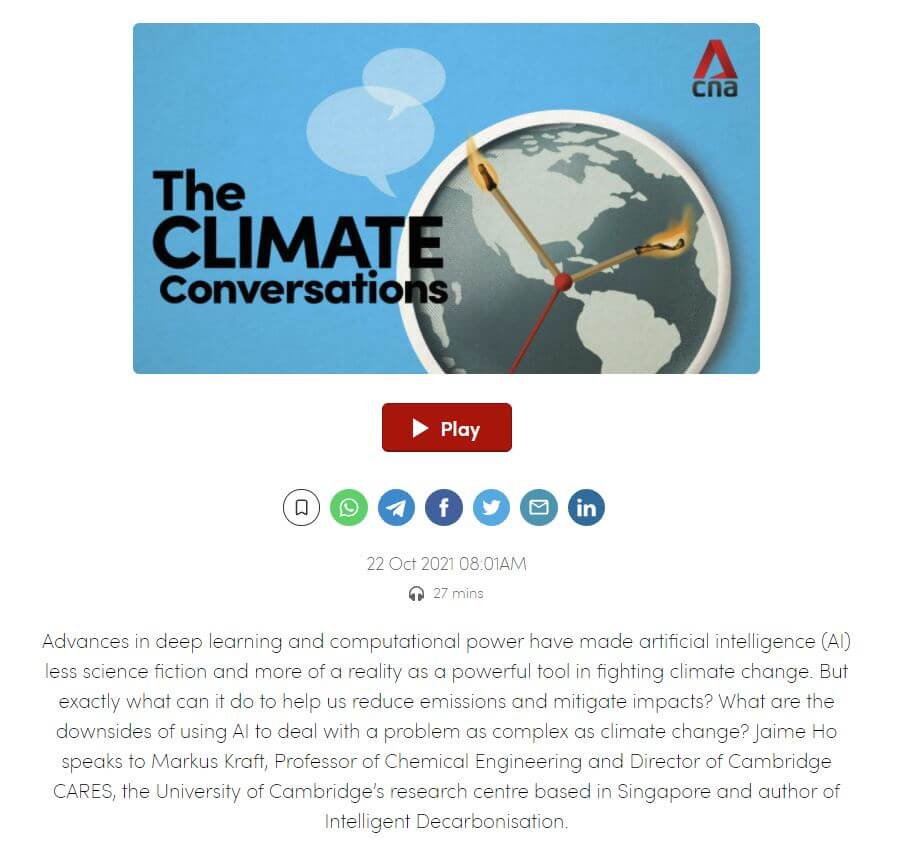 This research is supported by the National Research Foundation, Prime Minister's Office, Singapore under its Campus for Research Excellence and Technological Enterprise (CREATE) programme.