CARES Director, Professor Markus Kraft, has used artificial intelligence to streamline citywide processes.
While grounded by the Covid-19 pandemic in his home town of Pirmasens, Professor Kraft wanted to put his expertise to good use. He turned his attention to improving the efficiency of the town's infrastructure, and after several months of work he founded a new company, Computational Modelling Pirmasens GmbH (CMPG), a subsidiary of CMCL Innovations, in August 2021.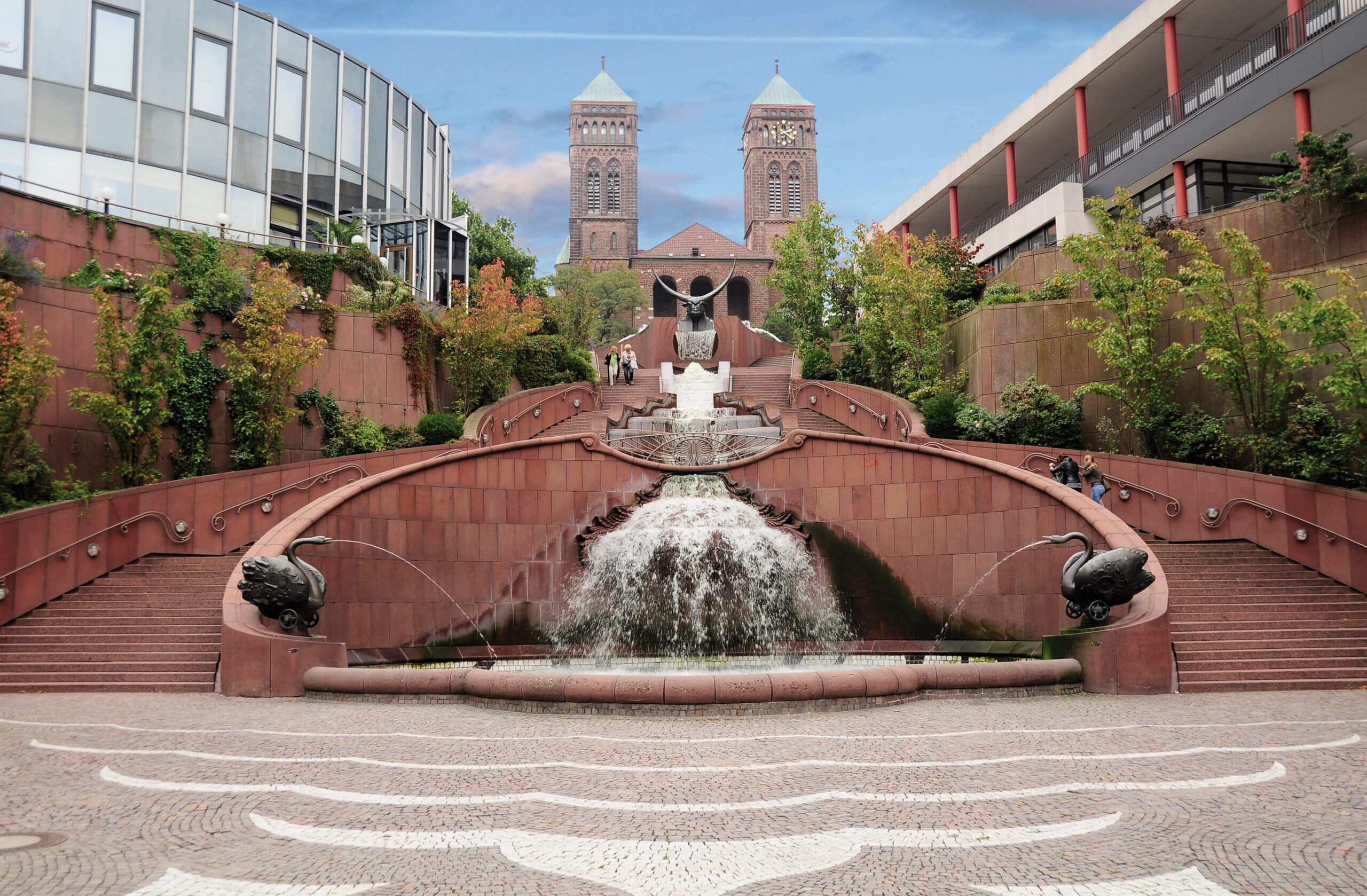 Schlossbrunnen Pirmasens by Gerhard Motsch. Licensed under the CC Attribution-Share Alike 3.0 Germany license.
CMPG aims to develop artificial intelligence agents that can monitor processes such as the town's waste disposal, sewage, building management, flood protection, and traffic guidance systems, and then autonomously take action to improve their efficiency. These intelligent agents can then be applied to other towns and cities around the world including Singapore where they could be employed in the CARES J-Park Simulator to lower CO2 emissions.
Since being established, CMPG has already begun streamlining processes in Pirmasens. Its first task was to optimise the district heating for the town. By using digital technologies for optimisation, they discovered a way to use 45 per cent less gas for district heating production, lowering the costs of heat generation by 23 per cent and reducing annual CO2 emissions by 3,500 tonnes.
According to Christoph Dörr, Managing Director of the municipal utilities of Pirmasens, the calculations made by Professor Kraft and his team can predict how to produce the cheapest district heating 24 hours in advance. The cost savings made by this optimisation will be passed on to Pirmasens' district heating customers in the form of stable tariffs. Currently, the prices in Germany for district heating are rising, but Pirmasens customers are spared from this, thanks to this AI-supported heat generation.
Optimising infrastructure in Pirmasens is only the beginning for CMPG. It will soon expand to the entire German market and the digital technologies it develops could be applied worldwide. Also, with CMCL Innovations expanding into Germany, it is possible the next step will be to open a branch in Singapore too.
A clip from television station OKTV Südwestpfalz introducing Computational Modelling Pirmasens GmbH. 
Read more: https://www.sciencedirect.com/science/article/pii/S0306261921011958